I already posted one article about using injectDLL, one about subclassing a foreign window. This time injectDLL is used to start and stop an application when another app is started. Remember that every DLL listed inside the MULTI_SZ registry key HKLM\System\Kernel\injectDLL is loaded into every process.
I would like to add some battery and wifi indicator to a full screen Remote Desktop Mobile (RDM) session. There are two specialized applications that display a small bar graph on the right of the screen, one for the battery level and one for the WiFi RSSI.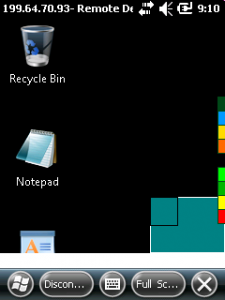 The upper right one is for the WLAN RSSI and the lower bar shows the battery charge level.
As these apps should only add there display when RDM ist started, I added them to an injectDLL.
Continue reading 'Mobile Development – Start apps with another using injectDLL' »