Print This Post
Hello, are any usefull sensors applications out there?
ITC's new device CN50 supports a G sensor by hardware. It delivers rotation, position, acceleration and magnetic data. But how can this help in commercial applications except for automated screen rotation? I dont know. The most G sensor enabled apps actually developed against HTC sensor are games. A bubble level application will not be that accurate with the form of the housing of the device. See a list of applications (mostly games) here.
I adopted the "sample Teeter-esque type application"  to the CN50 and the actual ITCsensor API I got. Did it to just play around with the API. I added a bearing line inside the moving 'ball' that always should point to magnetic north pole.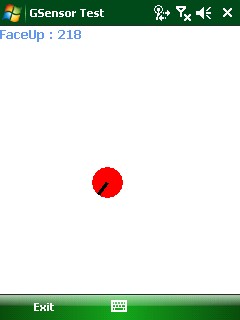 Let me know, if you are interested in my source code and I will post this useless app here.
Added source code to download. Please be aware of the code is written for ITC CN50.
[Download not found]